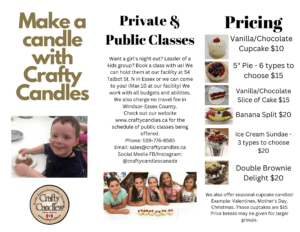 Come make a candle with us!
We offer private classes as well as public classes.
Public classes are listed here!
Did you know?
Our candle classes can also be taken on the road! Have a work party? Girl Guides group? We can come to you! Our facility only holds approximately 10 individuals so this option is great for larger groups. We do not charge a travel fee if in Windsor-Essex County.
Please contact us at sales@craftycandles.ca or call us at 519-776-8585 if you wish to book a private class or function.
Join Our Candle Club!
We have partnered with 4-H Ontario and are holding candle club meetings once a month. 4-H brings together youth aged 6-21 and passionate, engaged volunteer leaders to learn about selected topics through fun, hands-on activities and mentorship. Every meeting we will learn about candle safety, different waxes, and you will bring a candle home at the end of the night.
Register Here https://4-hontario.ca/association/essex-4-h-association/
Follow us at craft shows!
New to 2023, you will start seeing us pop up at vendor shows, different businesses or events! We will be bringing our supplies and you can make a candle right at our table and take it home when you're done! We will be doing cupcake style candles in co-ordination with the shows theme. Average cost is $15/candle
Showing all 3 results